Heavy haulage network BigMove now also present in Africa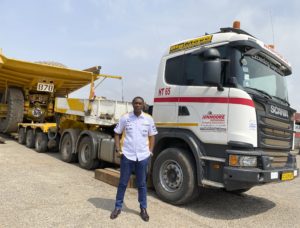 Mintraching, September 5, 2022. BigMove AG is significantly expanding its international business operations beyond Europe's borders. With the addition of a new partner, Jonmoore International Limited, headquartered in Ghana, the heavy haulage logistics network is now looking to gain a foothold on the African continent. The new partnership involves collaboration within the BigMove consortium on all industry-relevant issues. The focus will be on the implementation of joint projects and an exchange of know-how and experience across continental borders.
With Jonmoore International Limited, the BigMove network is not only gaining a strong partner in Ghana, but also one of the market leaders for heavy goods transports in West Africa. Managed from headquarters in Tema, Ghana, the company operates in a further 8 countries, including Liberia, Niger, Mali and Senegal. With a fleet of nearly 95 special transporters and several cranes, the heavy goods logistics company specializes primarily in the transport and assembly of large-scale equipment for fossil fuel extraction and power generation. Jonmoore is also considered one of the experts in West Africa for complicated heavy goods transports across national borders. In addition, an expansion of the business to East Africa is planned for the fourth quarter of 2022.
Thanks to their similar services profile, BigMove AG and Jonmoore International Limited are an almost perfect fit. The first joint projects within the scope of the partnership are already in the pipeline.

"This latest collaboration offers us as yet unexplored opportunities on the international markets and opens up completely new perspectives in the growing heavy haulage segment. This applies especially to the area of raw materials exploration," explains Olaf Beckedorf, Chairman of the Board of BigMove AG.
Hilton John Mitchell, Chief Executive Officer of Jonmoore International Limited, also sees many advantages in the partnership: "The same market positioning in different parts of the world results in valuable synergy effects for both heavy goods logistics companies. The collaboration will ensure our sustainable success and growth."
Together, BigMove AG and Jonmoore International Limited have access to more than 600 special vehicles for the transport and handling of heavy goods, elevating them to the league of the world's leading heavy-duty freight forwarders.
About BigMove AG:
BigMove AG has been operating since 2004 as an alliance of medium-sized heavy-duty logistics companies in Germany, Austria, Sweden, France and the Czech Republic with several locations in Central and Eastern Europe. Together, the 12 predominantly regionally active companies form a strong network that allows them to consolidate their competencies. Furthermore, through its partners, BigMove AG maintains a comprehensive approvable route network and the necessary fleet. All the group's vehicles are standardized. All this makes the BigMove network a strong alliance of leading heavy-duty freight forwarders offering customized and efficient solutions for all kinds of heavy-duty transports. For more information, visit www.bigmove.net
Press contact:
BetterBedi Kommunikationsberatung
Catrin Bedi
Phone: +49 40 27167080
E-mail: bedi@betterbedi.com